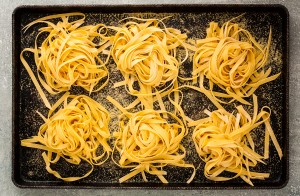 They're here!!! All of the classes and supper club dinners are posted for the entirety of 2015.
I've added another Soup Anatomy Class because I have 8 on the waiting list for the January class. So grab these spots before they're gone!
The only things still to do are the descriptions for the dinners and the menus. That will take some thought, for I'll pull recipes from past international classes, but I also like to add some new recipes to fill out the menu. The menus are dictated by the season; the descriptions I have to be in the mood for. You know what I'm talking about.
For those of you who gave gift certificates for the holidays, urge the recipients to make their choices ASAP. Classes do fill up and the sound of their disappointment is disheartening.
The Coop is coming along. We're working long hours (well, Lewis is) finishing the inside paneling. It was all insulated until the ferocious winds this morning ripped the plastic off the back and scattered some of the pink fiberglass all over the roadside. Typical.
Seed, tree, and rose orders should be placed soon. My favorite seed company is Johnny's Selected Seeds. A favorite with organic farmers, not only for their quantity choices and varieties perfect for market gardeners, but their performance in the greenhouse and fields. Check out the Garden Calender on my blog to prepare yourself for the garden tasks ahead. It can serve as a distraction during the cloistered winter months.